Research Fellowship Hike Announced
The Central Government Departments and Agencies have announced a hike in fellowships for research professionals involved in Research and Development (R&D) programmes, which is a significant development that would cheer the research community. The choice was made after the Department of Science and Technology (DST) carefully examined the proposal and received the appropriate authority's approval.
Fellowship Hike News 2023
The hike in fellowship amounts for several research personnel categories, including Junior Research Fellows (JRF), Senior Research Fellows (SRF), and Research Associates (RA), have been greatly boosted under the amended emoluments, giving their financial well-being a much-needed boost. These updated salaries will take effect on January 1, 2023.
Research Fellowship Stipend Hike 2023
The new hike in fellowship amounts approved by the competent authority are as follows:
Junior Research Fellow (JRF): ₹37,000 per month (previously ₹31,000)
Senior Research Fellow (SRF): ₹42,000 per month (previously ₹35,000)
Research Associate-I: ₹58,000 per month (previously ₹47,000)
Research Associate-II: ₹61,000 per month (previously ₹49,000)
Research Associate-III: ₹67,000 per month (previously ₹54,000)
Department of Science and Technology (DST) share this news hike in fellowship on Twitter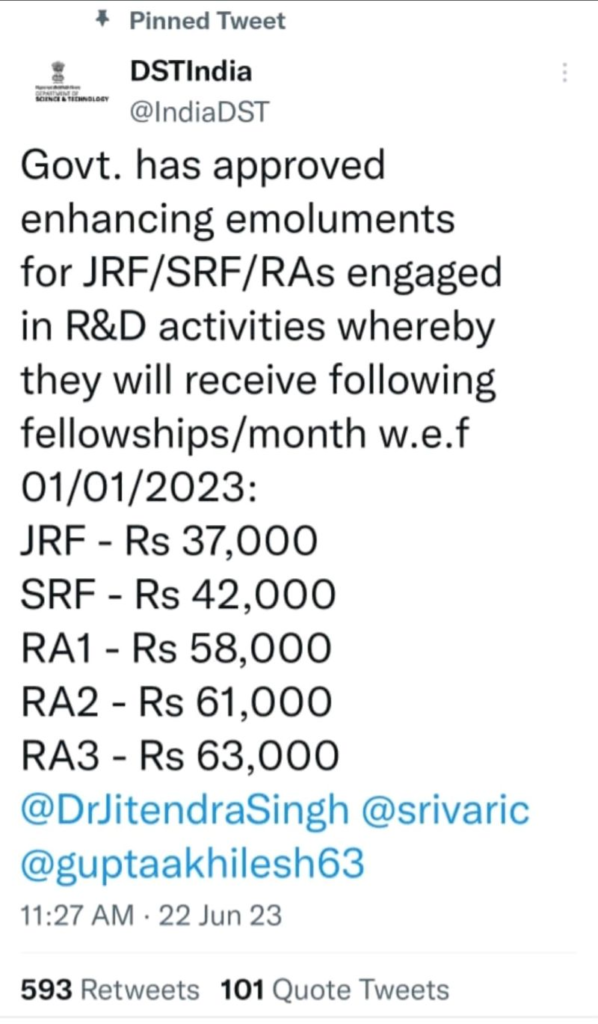 The central government's initiative, hike in fellowship, will greatly improve the financial assistance given to researchers at various Departments and Agencies. It is anticipated that it would inspire and draw talented people to pursue research and aid in the growth of the country.
The official notification emphasizes that the other service conditions for research staff would not change, even though the hike in fellowship is intended to benefit the research community. The concerned Departments/Ministries have been instructed to reduce non-priority operations and effectively utilise resources in order to meet the additional budgetary burden resulting from their existing outlay under the relevant schemes. The rate of expenditure and savings from non-priority operations will be taken into consideration when determining if further resources are needed.
Hike in Research Fellowship 2023
Several well-known organisations, like the Department of Science and Technology (DST), the University Grants Commission (UGC), and the Council of Scientific and Industrial Research (CSIR), are among the financing organisations in charge of implementing these amended emoluments on the hike in fellowship.
The academic and scientific community has welcomed this large increase in fellowships for research personnel. It is predicted that it will encourage an environment favourable to ground-breaking research, stimulate innovation, and develop the nation's future generation of researchers.
Today's Hot Deal
The Finance Minister has given his consent to this move, demonstrating the government's dedication to advancing and assisting national R&D initiatives.